---
Chiba job support center
Support for life, working consultation and reemployment to Chiba job support center
Chiba job support center is high facility of publicity that Chiba supporting Jobs, change of job, reemployment set up.
If it is person that person living in Chiba and employment in Chiba are examined, anyone is available.
To the generation and the situation of user, we support with reporting that can affect each person's wide needs and problem.
Consultation and reemployment skill up seminar about Jobs, exchange meeting, job placement with company, window guide for life maintenance carry out general support about Jobs.
Basic information
Use time
Weekdays from 9:00 to 17:00 ※ Saturday from 10:00 to 17:00 ※ (as for ※ last receptionist 16:30)
Closed day
Sundays and holidays, the year-end and New Year holidays
The location

〒260-0028

3-13, Shinmachi, Chuo-ku, Chiba-shi, Chiba

The third floor of Chiba TN building (the third floor of building of HelloWork Chiba station square plaza)

TEL
043-245-9420 (for living circle)
FAX
043-245-9421 (good for living)
URL
http://www.chiba-job .com
Closed day is changed as follows from Saturday, August 25, 2018.
 Closed day: Second fourth Saturday, Sundays and holidays, year-end and New Year holidays.
※We are closed for (soil, celebration) on August 11.
Access method
From JR Chiba Station, Keisei-Chiba Station a 5-minute walk
As there is not exclusive parking lot, please use public transport.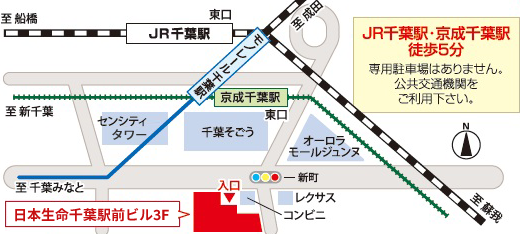 Communication window
Key number: 043-245-9420 weekdays from 9:00 to 17:00 Saturday from 10:00 to 17:00
(closed day: on Sundays and holidays for the year-end and New Year holidays)